Indite Interview
---
Indite Interview
Hi, thanks for being here and doing this interview. Before we get to Indite and just how much it can do for authors, tell us about yourself. Anything you want us to know. Let us get to know you!
Thanks for letting me do this interview. It's always a little weird for me to be on the other side, I run a podcast called Startup Burgh where I have entrepreneurs starting businesses in Pittsburgh on my show. But it's kind of fun I think! I am a self-described 'builder' of things. I've spent the last 10 years in the start-up world. First, I ran marketing and sales for a medical device company that scaled from 5 people to more than 150 and go acquired in early 2016. After that, I started a consumer products business where our aim is to disrupt the online razor / shaving business with a truly different product. But I have always had a "side-hustle" so to speak. And the INDITE notebook is my current side hustle. I've been a hobby writer in my downtime for the last couple of years, and I saw a need for myself that I'm hoping others see as a useful tool. I'm really excited about it as a project, and hope that I can get enough interest to fund the initial production run.
So, Indite, the Writer's Notebook. It looks great, clean, and well laid out. Tell us about it in your words. What's it do? Why should authors hop on it?
Thank you for that feedback. I like making clean, simple products. My goal with the INDITE notebook is to be a companion tool for creative writers. I envision it serving as a tool throughout the brainstorming, writing and editing process; and then as an archive of your process as a writer when the work is done (or after you hit pause). I really like the idea of, and the order inherent in, a single-project notebook that becomes a reference resource the more you work in it.
Personally, I do my writing on my computer. But I ALWAYS have a notebook with me when I have bursts of inspiration, or thoughts that will slip away unless I write them down. I also like to workshop characters and plot on paper because there's something so tactile about pen-to-paper, and the freedom of a page allows for more organic brainstorming than the structure of a page in Word.
What prompted you to create and follow through with this?
I thought it would be a fun project, and one not technically challenging from a production standpoint. The design is simple, and was fun to do. And I found an amazing manufacturer in Germany, which coincided with a trip I was taking last summer. So meeting them in person, and going over my thoughts around the notebook provided me enough confidence I could produce it to the quality I wanted.
Finally, I enjoyed working with my friend Helen on the concept. We've gone through 16 revisions of the content on the inside, and I fully expect to continue to make it better based on feedback from users!
How do you think it will benefit the grand variety of authors out there? People who plot? People who don't? Some with ADHD who have issues focusing, and the detailed oriented laser-eye focused people?
Everyone has such a different process, don't they? I'm pragmatic enough to know that a physical notebook isn't for everyone. But I did try to build in enough structure, and enough unstructured space so that it could be versatile. I think that INDITE will serve new and seasoned writers effectively, and will conform to their style. Not only that, but I firmly believe everyone can benefit from a little structure and method for productivity. The only way to call yourself a writer is to write, and jogging your memory after time away – or reminding you that it's been 2 weeks since you've written a word help people get back to what's important: writing.
A lot of detail and forethought clearly went into this, most evident in how the book is sectioned off. You've got places to plot and craft a story. You have a place to free write ideas as they come, as we all know they do oh-so-randomly, and an area to keep us, the authors on track with goals and To-Do lists. Why did you choose that layout when many notebooks either give you a full book of nothing but prompts, or just free writing? You gave us it all.
Yes, great question. I always believed that the best inventions come from necessity. What I found myself doing with my writing was carrying around blank notebooks. And I would play with structure that I'd build into them. After a while, as I worked through a few different stories, characters and methods I found myself repeating pages over and over again. I'd bring in a pen and a ruler and section of pages to guide myself.
Suddenly, I thought – why don't I just make this section standard and printed on the page! We've shown it to a bunch of different writers and they all had really great feedback.
The only way I can bring this to the world is if other writers want to use it. And so I wrapped it in the very best notebook I could. It has an amazing cover, completely different from the traditional boring old black notebooks. The cover is 100% recycled material and feels awesome. Because there are multiple sections, I included 2 integrated ribbon bookmarks. There aren't a lot of frills, but the build quality is very high quality. This thing will last you!
What are your hopes for the Indite Notebook? What do you want to see it accomplish as a product?
I want it to do what every great product does. Find an audience. In a perfect world, I get a few hundred people backing our Indiegogo campaign who are really interested in it as a tool And I learn from those people. I'd love a community around this notebook, because community is the best way to make better products. I have a whole host of ideas for the writers brand fromes indie-writer focused products, marketing-based guides and workbooks, reading and editing aids and more. But while my ambition may be large I know we need to start at square one. This is the flagship.
This may be a bit of a loaded question, but as an ADHD author myself, what advice do you have for authors who may have organization or focusing issues? How best to go about using Indite? Because, I have lots of notebooks and…they've always been one extreme or the other. Free writing, or telling me what to do all through the book. Indite looks like it wants to work with me. It wants to help! So, what advice do you have for an odd duck like me?
Hah! Yeah I have a little of that in my life too. All over the place. That's why I like notebooks with a little structure. You know, I build similar structures in all my notebooks for different purposes. For me, it's calming and focusing. There are a lot of unusual productivity hacks you can employ to help focus your writing. One for me is this awesome program that shuts off my internet for a pre-defined period of time. It locks me out! I love it. I can focus on the task at hand and minimize distractions.
I brought that theory to the notebook. It guides but not forcefully. Mostly, I want to give you a creative space and room to play because writing is an art not a science. Random Prompts of Writing are sprinkled throughout to surprise and delight. So maybe those can help feed into your ADHD, right? You find yourself working on something then you encounter a writing prompt and it gives you a focused outlet to switch gears and do something different for ten minutes. Then you can return to your writing.
What's the long term goal for Indite, not just as an author tool, but overall? Will be seeing expansions? More notebooks to come? Side/other tools? Or…is this something you can't spill, which is cool?
I think I answered this a little a couple questions earlier, but YES! Step one for the product line is to see if people are into the idea. This notebook is on Indiegogo right now for the next month or so, and if enough people pledge to help me get it funded then it will go forward.
Beyond that, I have a bunch of designs for other products. All of them are stationary products but with varying form factors. Pocket notebooks, larger form factors, planners, guides, marketing tools and so forth.
The big one. Where can we find out all about the creators and minds behind Indite? Where can we find, support, and buy Indite. Tell us! Share the links and info we need.
Yes! I can't express enough my appreciation for you and your audience. Your support means a lot. Right now, the INDITE notebook is on an Indiegogo campaign and early-bird pricing is available. The link is: https://igg.me/at/indite <– Our website is basic right now and is atomandink.com but the Indiegogo page is most important. If people want to connect with me, they can at www.adamsimone.com or www.linkedin.com/in/adamsimone. My partner on this project is Helen Savore, she's an indie fantasy writer working on some great pieces! You can find out more about her and her writing at www.oberonsforgepress.com.
We're on twitter @atom_and_ink as well.
---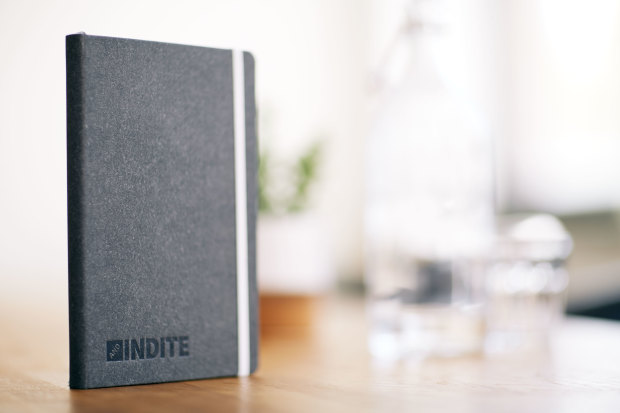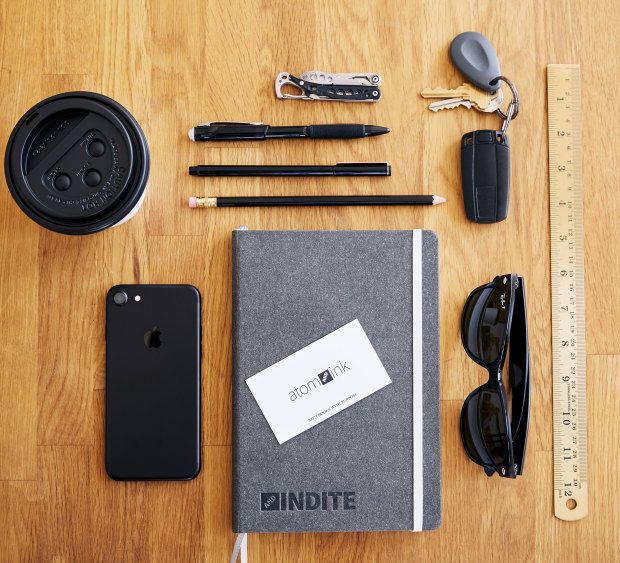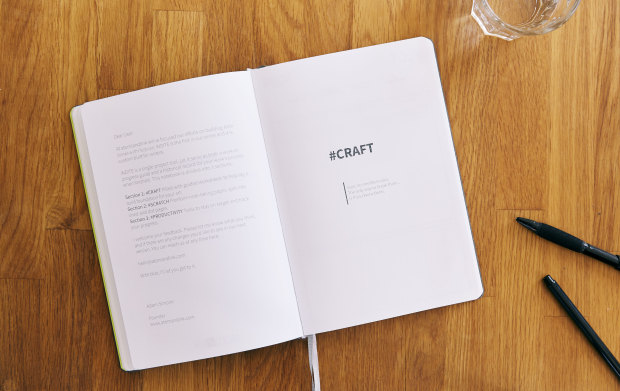 Images from the Indite Kickstarter Page. 
---